Insect Screens, Fly screens
Window & Door Services provide a full range of insect screens for your home or business. We supply, install and maintain all types of insect screens available on the market.
We have a proven track record throughout the Northland area. We deliver the best quality insect screen products available and top quality workmanship.
Insect screens add distinction to any window and door. Stylish mesh insect screens are one of the most functional yet attractive window accessories on the market. Installation onto most existing windows and doors is quick and easy. When you close the insect screen and open your door, the fine mesh allows fresh air to flow through. At the same time insects such as house flies, moths and mosquitoes are kept out, without the need to use any chemical sprays.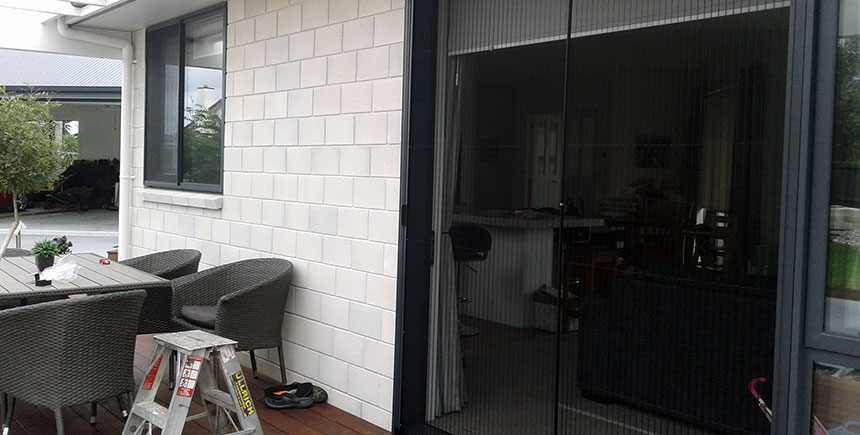 All screens can be colour coated in a wide range of colours and are available in vertical or horizontal systems. Professionally installed insect screens give complete protection against annoying flying insects such as flies, mosquitoes, sand flies and others.  Also available is midge mesh to keep even the smallest of bugs out.
Insect screen installations fit almost any doorway or window and can blend into the existing frames. Choosing the correct window and door screens for your home or business is an important decision. There are so many combinations of window and door systems such as hinged, sliding or fixed.
Magnetic Fly Screens are a perfect solution for many windows. Magnetic insect screens are custom made to fit your specific windows. To maintain a streamlined look magnetic screens are colour coordinated with existing window joinery. They are light and easily removed for convenient storage if necessary, and we can always help with repairs as well. While our streamlined and smooth sliding retractable screens glide with no effort at all!
Making the correct choice takes experience and knowledge of what insect screens suit what situation. We work closely with you and provide the right advice you can trust to choose the best options for you.
Let our experience work for you in selecting the right window and door insect screening solutions.
Contact Window & Door Services to discuss your insect screen options.